Happy Friday! Today I am participating in two Friday blogs. The first is Friday Fave Five hosted by Suzanne at
Living to Tell the Story
. The idea is to look back over the past week and pick your five favorite things. The second is Company Girl Coffee hosted by Rachel Anne at
Home Sanctuary.
It is an opportunity to meet with other Company Girls and catch up. This is my first coffee so it's a bit more of an introduction for me. For more details just click on the blog titles and visit Suzanne and Rachel Anne. Thank you both for hosting!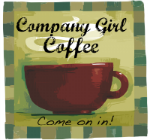 This week has just flown by! I'm having a hard time believing it's actually Friday! The weather has been better this week. (#1) The kids went to school 5 days in a row this week. It was pretty quiet here.
(#2) I had 2 "coffee calls" with friends this week. The first was with a friend who used to live a mile away so we would get together for coffee often. Even when we couldn't get together we'd call each other and ask "got time for coffee?" It stuck! Now that she lives a little further away we still have our coffee calls. The next was with a friend I have known since kindergarten or maybe even longer. She provided the winter scene photo for yesterday's post.
The "
Project
" (#3) is going very well! I haven't been to Stuff Mart since mid-January! Pretty amazing! What am I doing with all the time I'm not at Stuff Mart? (#4) Couponing! I've taken up serious couponing. My previous attempts at using coupons consisted of cutting them out, leaving them at home and finding them under a pile of other papers after they have expired. However, with coupons in hand I cut 12% off my grocery trip this week.
Today is date day! (#5) Honey is off work and we are going to go do something without having to pay a sitter or having Sweet Pea call every 5 minutes asking when we are coming home!
Don't forget to visit Suzanne and Rachel Anne! Have a wonder weekend!